K@MOLO
K@molo is a web-based system that covers all operative tasks related to data management processes.
Developed by .-.-.
K@molo is a web-based system that covers all operative tasks related to data management processes (data entry, data inconsistency detection, typo error detection, audit trail record, real time reporting and graphs, users/sites/facilities administration, study documentation storage and internal messenger).
The aim is to standardize all issues related to data management process using the advantage of the web-based technologies and the Internet. The main features of the system combined with our experience in conducting clinical studies led to a powerful on-line tool where the study data are safe, free of inconsistencies, available from anywhere in the world, always taking into account high security levels.
Kamolo system main characteristics
- Web platform (only an ordinary internet connection and a browser are needed to use it)
- Multi-study (standardization of processing)
- Centralization of data (data integrity)
- Decentralization of process (improve timing + low cost + capacity building)
- Security levels (customization of permissions)
- Good Clinical Practices and Food and Drug Administration (FDA) compliance
- Standard Operative Procedures (SOP)
- Real time updating (what is happening?)
- Dedicated server - High performance hosting
- Monitoring alerts and special reports for Source Document Verification (SDV) by a Contract Research Organization (CRO)
- Testing modules for beginners
- Restricted access (by user's identification and password method)
- Data handling (data entry screens identical appearance with the hard copy forms)
- Forms can be entered only following a logical/biological order or stablish condition for each study form (suggestor module)
- Inconsistencies checking inter/intra study forms (data quality/integrity)
- Missing forms (detect any study form pending to be entered)
- One-Click Reports (recruitment, compliance, missing value, data quality)
- Integrated HTML Reports generated by R/SAS programs
- Automatic data extraction (SAS, STATA, R, MsExcel, CSV and ODBC)
- Utilities and tools (users, facilities, documentation)
- Audit trail record (who, when, why and identification of any data addition, modification or deletion)
- Backup (daily and/or on demand)
K@molo is made up by a set of modules which can easily adapt to a large variety of study protocols. During the development phase, the current international regulations (i.e. FDA 21 CFR part 11) are taken into account while focusing on the user experience though a friendly interface and always seeking the best performance where Internet connection is poor.
Studies and project implemented with Kamolo system
i-Cip
WHO - Action Trial
WHO - Gloss study
WHO MCS - Abortion
Clampeo de cordón
WHO Carbetocin
Misoprostol
iWIP
IPPIC
MCS Argentina
WHO Multicountry survey
IGMCD
WHO Fetalgrowth
WHO PLGF
WHO Labetalol
Kamolo system main functions
- Participant list: provides sorting, filtering and search tools to facilitate participants identification and visualize relevant information about CRF already entered, data inconsistencies, and monitoring alerts related to source document verification (SDV)

- Data entry Guideline (tempter): in order to keep the database integrity, Kamolo system evaluates a set of logical and biological conditions to suggest new forms, based on the occurence of CRFs and/or specific values in any of questions. For instance, the system allows to enter CRFs post-randomizartion if the participant is eligible and already randomized from a pre-existing CRF already entered in the system
- Data Validation: An automatic data inconsistency detection mechanism is available during the saving of a new e-CRF and the modification of an existing one. The operator can click each link in order to visualize each variable involved and try to solve data inconsistencies using just a few clicks. A set of data checking rules is included in this module to cover all detection of incoherent data among variables from the same e-CRF or variables from different e-CRFs.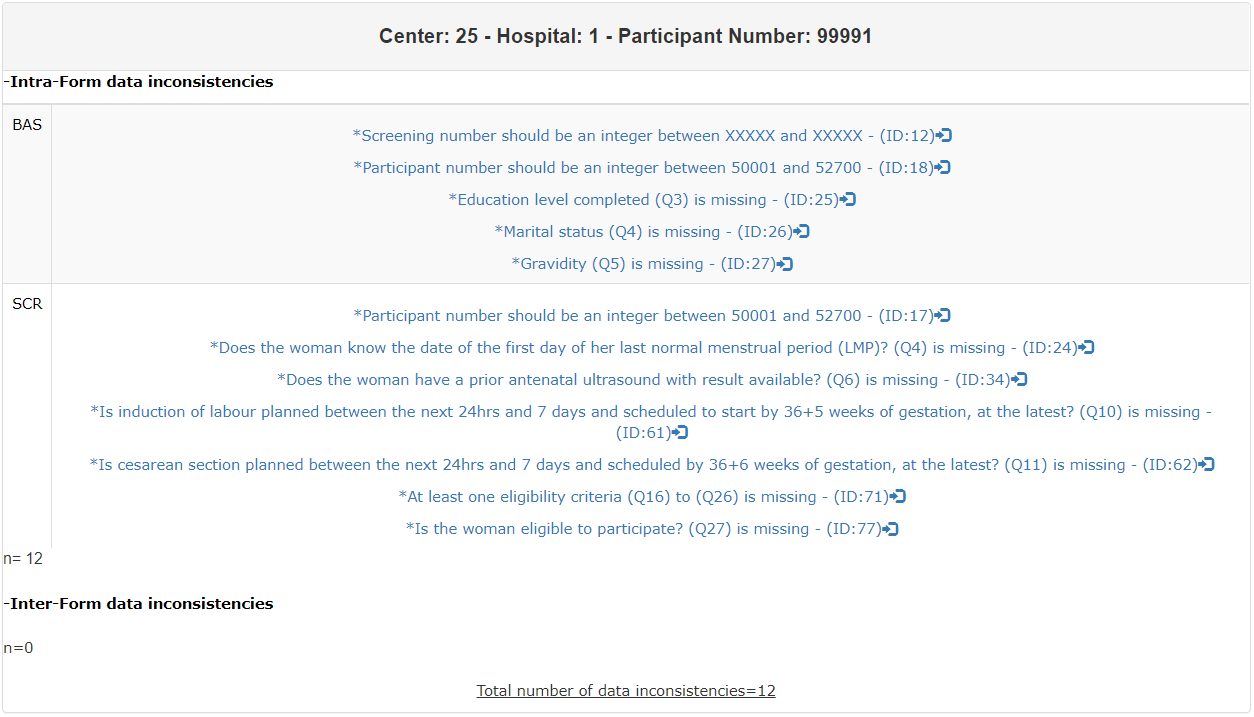 - Reporting: With only one-click, reports can be generated to evaluate the progress of the study (globally and stratified by site) such as eligibility criteria, expected vs. real enrolment, protocol compliance, missing values, and many more, all of them instantaneously. In addition, embedded HTML Reports generated by R/SAS programs are automatically generated and uploaded to be visualized from one of the main menu of the system.
- Audit trail record: Any data modification needs a text justification that is saved in the audit trail record (Who, when and why any data change is done).